The 15 Types of Rooms in a Home: Essentials for Homeowners
A house is a big responsibility. From the moment you sign on the dotted line, you're taking on all sorts of responsibilities – from paying for upkeep to making sure your family feels at home.
In this article, we'll talk about what's in store for new homeowners – specifically, how many rooms are in a typical house and what they do. We'll also give our best tips for furnishing these spaces so that they meet the needs of your everyday family life!
When you're first purchasing a home, it can be hard to know what all the different spaces are called. You might hear your realtor use words like "dining room," "living room," or "kitchen." It's not always obvious how these rooms should be used and what they should contain.
So the question is, how many different types of rooms can a single home have?
It varies, but generally speaking, you'll find that there are about 18 main types of rooms in a typical home. Not all homes will have all 18 types of rooms. Extremely few do. Most average homes have about 3 bedrooms and 2 bathrooms.
There are plenty of different types of rooms you can find in your home.
So let's dive into them.
1. Living room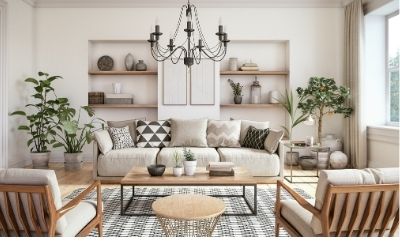 The living room is perhaps the most recognizable of all the different types of rooms in a home.
This is where you'll spend your time relaxing and watching TV with friends or family. It has often become the place to escape from work for a little while. We recommend that this room should have comfortable chairs, sofas, coffee tables for reading material as well as entertainment.
Some other activities you'll find in the living room are playing games, watching tv and movies.
It can also be used for hosting guests like a formal dinner party or just as an extra place to serve snacks in between activities.
A large section of this room should include open space because it's often where kids will play with toys while they're waiting for mom or dad to finish cooking dinner!
We recommend that the flooring should be fitted with a water-proof carpet due to how easy it is to clean up spills from food and other messes that might happen during parties. Carpets make the area more comfortable too!
This type of material would also work well in rooms like bedrooms or bathrooms though since getting stains out without professional help could be messy or impossible.
2. Bedroom
The bedroom is the place where you will sleep. This room must house a bed, as well as an area for storing clothes and other items of personal hygiene like toothbrushes and makeup for a bathroom nearby.
This is also the type of room where newlyweds or husbands and wives should find themselves spending time together without interruption from children or roommates.
There will often be multiple bedrooms in a single home. Children often get their bedrooms as well. Privacy, rest, and sleep are three of the main components of a bedroom.
The bedroom is one of the most sacred places in the home because it's usually closed off from the outside world. It has to be comfortable, with a bed or couch and enough room for storing clothes.
3. Kitchen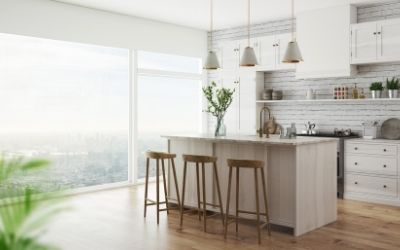 This is probably one of the most active rooms in the home. It's the hub of activity for cooking, family dinners, and parties.
The kitchen needs to be a large enough area that has all the necessary items that will make it functional. We recommend adding an island or counter space as this is where you can store food while preparing meals or snacks on a larger scale than in other parts of your home (think dinner party).
A well-designed kitchen should also have plenty of lighting so you're not reaching under cabinets in the dark looking for utensils and spices when cooking at night or during vacations away from home with friends! The kitchen is one room we don't want anyone to feel like they are overworking in — there's no need for dimly lit spaces and difficult access when it comes to a kitchen.
What you'll find in a kitchen are the basics for cooking, such as a stovetop, ovens, and microwaves. These are usually found on the countertops or in cabinets that have pull-out shelves to make it easy to find what you need while also making sure these items stay clean!
Storage space is key here. This can be done by adding extra cabinet units and pantries underneath your counters if needed. You'll want plenty of room so all food stays fresh and organized (think organization first before decorating). The kitchen should provide ample storage spaces for pots & pans too with overhead racks above appliances like stoves or dishwashers where they won't take up valuable floor space.
4. Dining Room
This room is more often than not an extension of your kitchen. It is typically the place where you eat all your meals and socialize with friends and family alike!
In this room, we recommend having a light-colored tablecloth for easy cleanup. For seating options (chairs or benches), always have an odd number to keep things balanced — three seats on one side, four on another, etc. Don't forget about storage either because odds are if you're hosting at least two guests they'll want their plate and utensils so there should be ample space in here as well for that stuff too!
Dining rooms are marked as the staple image of a family gathering, so it's important to make this room reflect your sense of style and what you want for a happy family atmosphere.
5. Family Room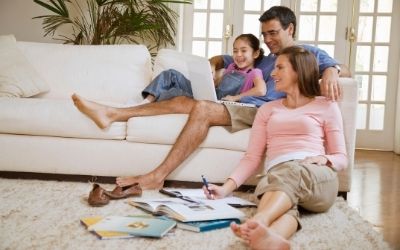 The difference between the family room and living room is that the family room is a place where you spend your time away from work with your loved ones. This area usually includes comfortable furniture, televisions, and other entertainment options to make it more inviting for friends or relatives that come over.
The best way to decorate this space would be by including pieces of art in bright colors so they can pop off the walls and add personality to the room. Then go ahead and get some throw pillows too because comfy seating is always better than being uncomfortable!
Family rooms are less formal, while living rooms are more formal, reserved for guests and special occasions.
6. Guest Room
The guest room is a great place to come and sleep when visiting relatives, friends or just traveling in general. There are many different interior design ideas for this room. Depending on the style of person, you want your guests to be comfortable with and feel at home during their stay.
You might consider a minimalist look if you have more modern tastes like sleek furniture and clean lines. For an eclectic vibe go ahead and mix patterns such as stripes with polka dots! This is also a good way to add some personal flair into space without making it too overwhelming for guests that may not know what they're getting themselves into (or those who don't care). The best part about these styles is that anything goes so long as there's plenty of fresh sheets waiting for them at night.
7. Bathroom
The bathroom may sound like a boring place, but you can always make it your own by adding a quirky shower curtain, framed photos of loved ones on the walls, and even some nice scented candles. The bathroom is also where you get to have that one-on-one time with yourself.
Don't forget about moisturizers for those dry winter months!
Finally, don't forget to stock up on toilet paper so guests are prepared when they use the restroom because all good hostesses know poop happens (even if we try hard not to think about it).
Tip: You may want more than just basic toiletries in here like baby wipes or allergy medication too depending on who will be staying over and what your preferences are.
We recommend putting a tub mat under the towel rack, toilet, and bathtub to keep those feet nice and warm.
8. Game Room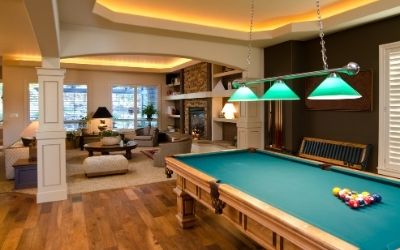 This is the fun room in the house. It's where we often find our kids playing video games, board games, or even just watching movies on their own. There are many items that people might want to consider when they're outfitting a game room with something for everyone from billiards tables and dart boards to pinball machines and pool tables.
If you don't have a lot of space, TVs make great additions as well as surround sound speakers so it feels like you here!
This room is filled with things for adults and kids to enjoy so it's a great place for the whole family!
One of our most important pieces of advice is to make sure your game room has enough space. If not, you're going to end up with furniture everywhere which will just get in the way. Another thing we recommend when designing this room is adding some sort of entertainment center that everyone can use such as a TV or stereo system. It cuts down on clutter if all electronics are centralized into one area instead of sprinkled throughout the house making them hard to find. Finally, don't forget about lighting! You might think these rooms have natural light but often they do not – especially depending on how large these spaces are. So be sure to add it.
9. Basement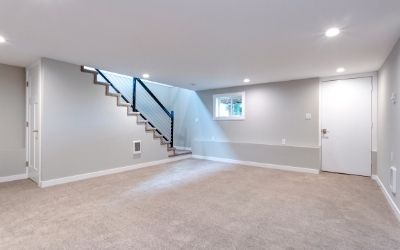 If you have a lot of boxes and items you need to store, your basement is a great place for them. You may also have an air hockey table or ping pong table down there so don't forget to plan out the space accordingly with ample room around it. It can also be a place to host a small get-together. Especially if you're hosting friends and family who will end up playing these games often!
As we mentioned earlier in this post, basements are quite common when you live in an older house. They can be used as storage spaces by organizing all of your boxes away from sight. If you decide not to go that route, make sure you include plenty of light sources such as lamps and overhead lighting (if possible). You'll want good lighting because these rooms tend to get dark since they are generally located underground.
10. Home Office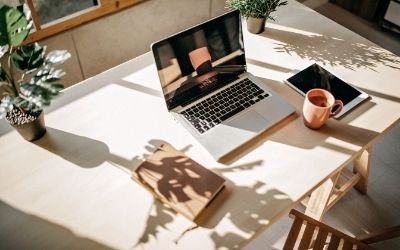 If you're looking to be productive and get all of your work done in one place then a home office is for you.
I'm going to have to confess, this is my favorite room because it helps me get work done.
It's important to have this room well-lit (especially if it has windows) because otherwise, distractions will come into play and take away from the productivity that should be going on instead.
The first thing everyone needs when they start their own business or want to get more productive with their tasks at home is an office space. This doesn't necessarily mean that there are walls around you as long as it has some privacy! Many people who live in small apartments find themselves working better if they can create some designated "offices" within a room just so no matter where they go, there's somewhere quiet that feels like an escape zone.
This type of room should be equipped with computers, desks, comfortable office chairs, and anything else you might need to do a variety of tasks.
This is the perfect room for people who are always on the go and don't always finish their work at their company!
11. Nursery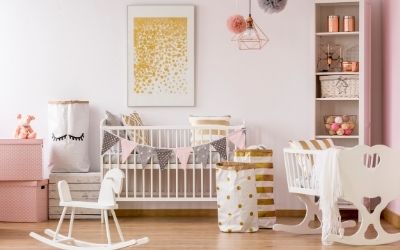 This room is for new parents who are recently blessed with an addition to their family! This room might be for a baby, toddler, or even both.
The nursery is usually equipped with all the basics: changing tables, cribs and dressers, rocking chairs, and more. You may also find hobby-related materials like books of poetry or games in this part of your home if you have older children.
This type of room is perfect for playtime or soothing after long walks out on the town!
It's one place where it's always safe to go when trying to get some energy back before heading up those stairs again.
I would recommend getting a baby monitor in a room like this to make sure all of your new members are always safe.
12. Playroom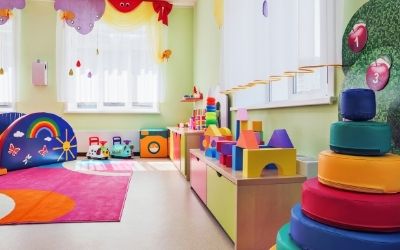 Playrooms can be any room when you have kids. They are usually thought of as a room with toys, video games, and anything else that kids could want.
Our recommendation for this type of room is to make sure it has some sort of entertainment in place. When you have two or three children running around the house all at once they need something to distract them from all their energy!
This room will also let your child(s) explore different interests without being too messy because any messes can be picked up quickly before dinner time arrives.
I would recommend getting art supplies like crayons, sketchbooks, and paints so that your little ones can feel free enough to express themselves the however way they please when drawing pictures!
Just make sure to carry an extra bucket of paint similar to the color you have in your room because kids will sometimes write on the walls.
This may sound silly but these materials help out our creativity when we're feeling more lost than usual.
13. Library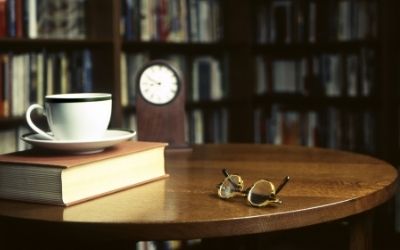 If you are fortunate enough to have a library in your home, this can be a great resource for the whole family. Library rooms will often have walls of shelves and books for all ages of readers. This is a great place to have your children explore their interests and find books that they will want to read over and over again!
Make this room comfortable, and quiet. You should have sofas, reclining chairs, and small tables for reading. Include a coffee table with some books of interest to adults as well!
14. Storage Room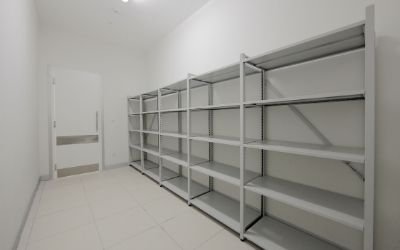 Now the basement is usually a good place to store your unused belongings, but if you don't have one, you can use a spare room for storage. This is a good place to store all of your seasonal clothing, extra blankets and sheets for the winter months, or holiday decorations!
Shelves are great in this type of space because you can put things on display as well as storing them. You'll want it to be easy to access so that everyone in the family knows where everything goes when they need something out of there!
Make sure that if you have children running through here often, you should install some lockers with locks or cabinets with drawers. Make these kid-friendly too by decorating them nicely. A nice big shelf installed at waist height will also work wonders!
15. Gym Room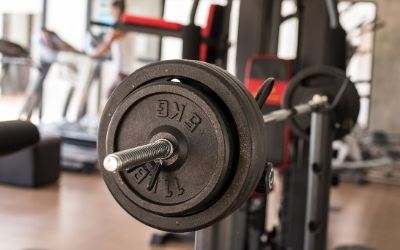 Some people don't like going out to the gym and so why not have one at home? This is a great way for busy people to find some time in their day and stay fit. It can also be used as an entertainment space or an extension of your living room, perhaps with the addition of television.
The equipment you need will depend on how much space you have available but generally, we would recommend at least one treadmill, elliptical machine, stationary bike, and weights – every type of exercise needs those!
You'll want ample flooring so that there's enough room to do all sorts of different exercises without worrying about tripping over anything. Don't forget cardio-vascular machines too if you're lacking any! We'd recommend getting workout media from those intense workout companies because they are really good quality. You can also use YouTube.
Finally, look into investing in foamed floor mats. These handy things can save your floors and your feet. The cushion works wonders.
16. Laundry Room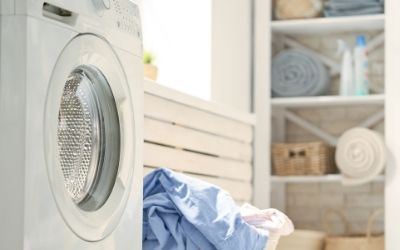 This is the room to clean all your clothes! It's the room where your washing machine and dryer are, so it has a lot of space for storing laundry supplies like detergent and fabric softener. You could also have baskets on shelves to store dirty clothes that need washing or just use plastic storage bins to keep them organized.
The Laundry Room is an essential place within any home with children because small pieces of clothing often disappear into other rooms (and parents' closets) before they can be washed. This should not be difficult since you will already know what size basket you want by now!
This room is necessary if all members of your household require clean garments every day; however, some people may choose to share their laundry
17. Garage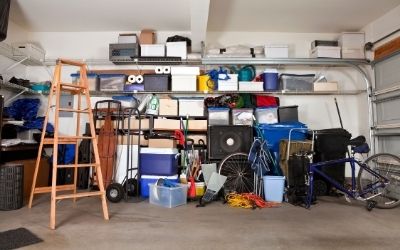 Not only is a garage built to store items and belongings, but it's also there to keep your cars safe. This is where people store their bicycles, lawnmowers, and other yard utilities for the winter season.
What's inside your garage:
Car
A lawn mower (or garden tools)
Bicycle or skateboard
Garage door opener/Remote control car starter system
Tools like hammers, screwdrivers, toolbox, etc.
If not in there already, purchase a shelving unit that matches your decor to hang up items. You may also want to have one or two shelves dedicated entirely to storing home improvement equipment.
18. Closet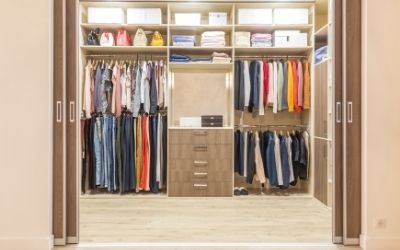 This is simply a place to keep all your clothes in. You can also buy extra shelves and hooks for this room to store items you need access to.
Some of the things you should have in your closet are a clothing rack or shelving unit to organize all your clothes and make it easy for you to find what's inside.
Clothes organizers such as a rod with shelves, hangers, etc. are also a great idea to help double up additional storage space.