The 7 Best Finishes for Wooden Dining Tables (Based on a Large Community Poll)
Want to learn how to make that old wooden dining table look like it's worth a million bucks?
Let's face it, we all have a wooden dining table in our home that's collecting dust and looking rather dull.
It's the kind of furniture you really want to place in the middle of the dining room, but you don't want your guests to see it because it looks so dated. even if it doesn't inspire you much when you look at it. You've tried to wipe it down a dozen times, but still, something's missing. Something simple and clean won't do for it.
I had a rusty-looking old table set in the middle of my dining room and I feel your pain. When I would walk past that room, I'd overlook the dining table because it's just not that appealing to me. It didn't have the same shine and luster that it used to have when I first bought it. I've sort of neglected it throughout the years.
Even though I've used the dining table more times than I can count, did I feel any buyer's remorse? Maybe a little.
That's why I decided one day that I would find a way to bring my old table back to the form and shine that it truly deserved. A form that I was proud to place as the centerpiece of my dining room.
In my journey, I decided to research ways to bring back my table's luster in a task called finishing wood. I delved in so deep and found so much information that I've created this article to list all the most popular wood finishes I could find and rank them from best to worst.
So what did I find? What made me decide was the top choice in finishes and what made the worst on the list?
To answer the question of the topic, In a poll generated among a group of over 65 individuals in the field, we created a poll on which is their favorite finishes to use. In first place is polyurethane. The runner up is lacquer. Next, we have varnish, then shellac. And in the final place, we have oil, wax, and water.
But if you want to know why I ranked them in this order, please check out my findings below. I'm almost certain you'll learn something rather interesting as I did.
Why do we finish wood?
I know that we can all be accustomed to the idea of painting and varnishing our wooden furniture to keep it protected and looking good. But finishing and finishing those pieces can often lead to more longevity and glossiness.
Understanding that there are 2 types of wood finishes
There are 2 types of finishes you should know about. The first one would be a surface finish and the other would be a penetrating finish. I'm going to try to make it really simple to understand the difference between the two.
Fortunately, the key to understanding surface finishes is within the name itself. This type of finish does not go into the wood. Rather, it coats the outside of the wood. It creates a really thick layer on the "surface" of the wood, which prevents moisture and all the other bad things from damaging the wood in the long run.
The one other finish you need to know about is referred to as a penetrating finish. Penetrating finishes are usually oil-based substances. These oils are able to seep through the cracks and crevices of the wood. And fortunately for us, penetrating finishes can also work well as finishers.
How were the finishes ranked?
There's no way to definitively rank the traits of these finishes. It's mostly subjective to a point. But what I can do is give you a bit of an idea of what might be more popular than the other.
I've created and completed a poll with several dozens of votes from individuals who are in the field of woodworking.
At the end of this chart, I have a table that will give you a general look at the pros and cons.
Ultimately, I want you to walk away with as much information as possible to make a well-educated decision about your next finish.
What were the results of the public poll?
Over 60 individuals had voted and here are the results.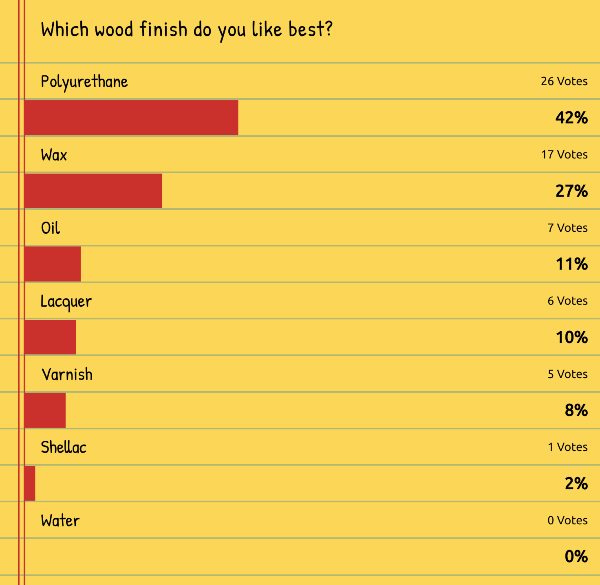 Now I know that this isn't asking the question of which wood finish is the most durable or strongest. But I thought it would be more helpful to see what everyone else was using. I would assume what everyone else's use case is strongly influenced by the level of durability that's required for their project.
In any case, it seems like the most popular vote goes to polyurethane. This is indeed my pick for which finish has the best durability.
Table: All 7 finishes compared
| | Durability | Water-resistant | Toxic | Easy to apply |
| --- | --- | --- | --- | --- |
| | Durable | Water-resistant | Toxic | Easy to apply |
| Polyurethane | Yes | Yes | Yes | No |
| Lacquer | Yes | Yes | Yes | No |
| Varnish  | Somewhat | Yes | Yes | Yes |
| Shellac | Somewhat | Yes | No | Yes |
| Oil  | No | No | Somewhat | Yes |
| Wax  | No | Yes | No | Somewhat  |
| Water | No | Somewhat  | No | Yes  |
Chart summarizing important traits of wood finishes
The top 5 finishes ranked
1. Polyurethane
Polyurethane is a polymer formed from joined urethane compounds. I won't bore you with all the chemical names it's composed. It's basically like plastic.

It's considered a "hard" finish and what that means is that it will protect your wooden furniture. There actually exist many different kinds of polyurethane including an oil-based version which is stronger and more durable.
This finish actually comes in 2 forms. A water-based form and an oil-based form. All you have to know is that oil-based forms are considered slightly more durable and when applying them, you'll need a respirator and a well-ventilated room.
Polyurethane is a strong substance and is recommended for the protection of wood from scratches and discoloration.
Polyurethane is considered harmless to humans.
Pros
Very durable
Water-resistant
Available in a variety of looks and feels
Cons
Can turn yellow and crack when exposed to UV sunlight
Difficult to apply
Difficult to repair if damaged
2. Lacquer
Lacquer is yet another substance in the family of surface finishes. It can only be described as a thin solvent. And since it's a thin solvent, that also adds to the benefit of it drying up quickly.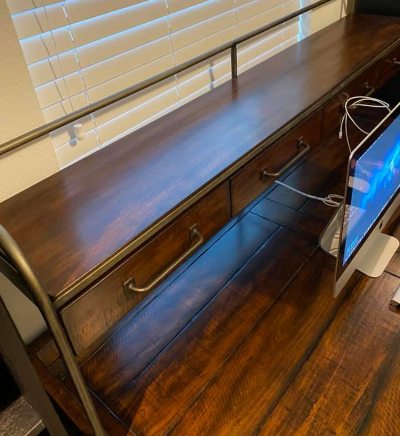 It works as a wonderful solution to protecting wood surfaces because it's capable of going deep into the wood.
Lacquer provides an intensely glossy finish. It also makes the wood very durable and resistant to surface damages. Applying lacquer properly requires a sprayer and a well-ventilated room.
Pros
Quick-drying
Moderately difficult to apply
Very long-lasting
Remains clear for years without yellowing
Penetrates very deep
Cons
Hazardous and harmful fumes
Flammable
Difficult to apply, must be done quickly
Using a brush reveals brush marks
Requires a sprayer to apply
3. Varnish
Varnishes are a combination of oil, solvents, and resins. It's usually a clear and transparent color. Varnish provides fantastic UV protection, however, it dries very slowly. Varnish finishes don't usually cover the grain of wood surfaces.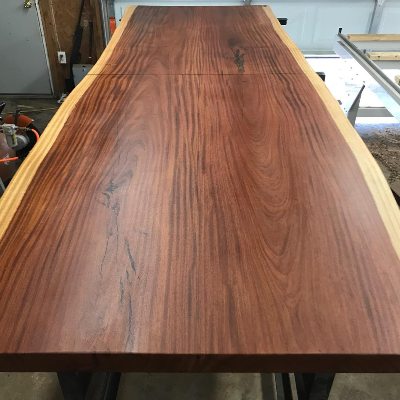 Pros
Potentially offers one of the most protection
Soaks into the wood providing more protection
Offers the most natural look
Easy to apply even with a brush
Cons
Yellows over time
Direct sunlight can damage it
4. Shellac
Shellac is actually composed of a resin that comes from the female lac bug of Southeast Asia. It is then mixed with wax from the tree that the bug inhabits along with an alcohol solvent. Shellac has been around for hundreds of years.
Shellac can come in several different colors. Shellac is naturally orange or amber in color and is good if you want your wood to be toned on the warmer side. Fortunately, they do have artificially white and clear colors.
This consistency dries fairly quickly giving the wood a glossy finish.
These days, shellac is the more under-appreciated of all the finishes and is often used as a finish by high-end antique refinishers.
Pros
It's non-toxic and environmentally safe
Dries quickly
Easy to apply
Doesn't easily turn yellow
Easy to repair scratches
Comes in a variety of colors
Removable with alcohol
Easy to clean
Cons
Alcohol can damage the finish
Care needed when using chemicals to clean it
Not heat resistant
Not scratch resistant
May get water stains
Will not survive outdoor
5. Oil-based
Oil is often considered part of the penetrating finishes and is the only penetrating finish on the list.
One thing you should understand is that wood already contains natural oils. But over time, this oil dries out and so we use our own oils to artificially replicate and replace whatever oils that use to be there. This method keeps the wood nourished and protects it from the inside out.
It also provides a more natural look because it travels deep underneath the surface of the wood.
Oils are part of the penetrating finishes. A list of these finishes includes tung oil, linseed, oil, danish oil, and cedar oil.
Pros
Works well on dense wood
Easy to apply
Produces incredible luster
Cons
Not durable
Can cause yellow discoloration to the wood itself
Not scratch resistant (more prone to scratch than even shellac)
May get water stains
Takes a long time to dry
Hard to use on porous wood
Not scratch resistant (less resistant than Shellac)
6. Wax-based
Wax was considered the classic go-to finish. It's been used for so long and possibly even centuries ago. Wax used to finish wood furniture is usually all-natural, soft, easy to repair and maintain.
Pros
Very glossy
Can be easily removed
Can take a while to apply
Environmentally friendly
Cons
Not durable
Frequent reapplication needed
7. Water-based
The water-based finish falls upon the surface finishes.
When you want to use a water-based wood finish, chances are it will be on top of painted to stained surfaces. You can also finish straight onto the wood which is completely okay. However, durability is often a concern when using a water-based finish.
A water-based finish is often a composite of various chemicals forming an acrylic mixed in with water.
These types of coatings have the ability to protect the wood from moisture as well as UV rays. Since its solvent is very much replaced by water, you can consider it environmentally friendly as well. There's apparently a clear reduction in the emission of harmful substances.
Pros
Chemical resistance
No yellowing
Quick-drying
Good for outdoor
Holds gloss
Elastic film
Easy to apply
Not flammable
Con
What to consider when finishing a wooden dining table
Quality: The quality of the finishing product is essential for the final outcome of the dining table. Choose high-quality products that offer protection against wear and tear, as well as resistance to water, heat, and scratches.
Cost: The cost of the finishing product is a key consideration for many people. Look for a product that offers good value for money without compromising on quality.
Application process: Consider the application process of the finishing product. Some products may require multiple coats, while others may require sanding in between coats. Make sure you have the necessary tools and equipment to apply the product effectively.
Durability: The durability of the finishing product is crucial to ensure the table lasts for years to come. Look for products that are specifically designed for high-traffic areas, such as dining tables.
Cleaning: The ease of cleaning is an important consideration when choosing a finishing product. The finish should be easy to clean and maintain, without requiring harsh chemicals or excessive effort.
Residue: Some finishing products may leave a residue on the table, which can be difficult to remove. Look for products that do not leave a residue, or that are easy to remove if they do.
Color: The color of the finishing product will affect the appearance of the table. Choose a color that complements the existing decor, or that creates a new and appealing look.
Sheen: The sheen of the finishing product can range from matte to glossy. Consider the level of sheen that will work best for your particular table and room setting.
Lasting: The longevity of the finishing product is a critical factor to consider. Look for products that are designed to last for a long time and offer superior protection against wear and tear.
Odors: Some finishing products may emit strong odors during the application process or even afterward. Choose products that have minimal or no odors, particularly if you or anyone in your home has sensitivities or allergies.
Sunlight: Sunlight exposure can cause the wood and finish to fade or change color. If your table is exposed to direct sunlight, choose a finishing product that offers UV protection.
Are there any special finish considerations for outdoor wooden dining tables?
When finishing an outdoor wooden dining table, it is important to consider a few special factors to ensure that the table is durable and looks great.
First, the finish should provide protection against the weather and other environmental factors such as humidity and moisture. Look for a finish that is designed specifically for outdoor use and offers excellent water resistance, as well as UV protection to prevent the wood from fading or changing color over time.
It is also important to consider the safety of the finish, especially if the table will be used for food and drinks. Choose a non-toxic finish that is safe for food contact.
Also, ease of maintenance and durability are key factors to consider. Look for a finish that is easy to clean and maintain, and that provides long-lasting protection against wear and tear.
Finally, consider the color of the finish, as it can impact the overall appearance of the outdoor dining table. Choose a color that complements the surrounding environment and enhances the natural beauty of the wood.
Key takeaway
Some finishes only cover the outer surfaces of the wood while other types of finishes will actually crawl their way into the interior of the wood.
Different finishes have different pros and cons of their own. Below is a table I've created for you to really understand the differences.
The added benefit of the finish is the way it's able to enhance the natural beauty of the wood as well. It's my opinion that ease of application is rather important, but is very relative to how well you are experienced in the process.
If someone has performed polyurethane applications more than a dozen times, then maybe it gets easier. However, the chart above accounts for first time users.
Toxicity is a large factor, but apparently, it's almost indirectly proportional to durability which is such a shame.
One thing I'd like you to remember from this article is that the goal of finishing is to keep the wood clean and durable for as long as possible.
Other interesting articles: